7125 Orchard Lake, Ste. 303
West Bloomfield, MI 48322
Phone:
(248) 626-9229
Fax:
(248) 626-9230
Email:
royalcare@royalcare.org
Office Hours
Monday - Friday: 9AM - 5PM
Referrals: 24/7
Welcome to RoyalCare, Inc.
RoyalCare Inc.

- a specialty rehab home health care provider that has been tested by time and strengthened by the passion to care. We are a provider of home health care services to the greater Metro Detroit area including Wayne, Oakland and Macomb counties in Michigan.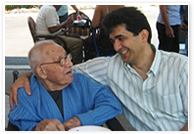 Our dedication is in providing quality services through competent home health care staff and medical practitioners. In home health care, we take advantage of the benefits brought about by the privacy and comfort of the patient's home. As an alternative to long term admission to a hospital or medical facility, home health care enables the patient to receive the services and treatment from an aide, nurse or therapist without having to leave their home. And because Royalcare, Inc. is a leading home health care provider, you can be sure that you or your loved one is receiving the treatment and care services that is most fitting to their condition.
The Healing Power of Home
At Royalcare, we work hand-in-hand with physicians, patients, and family members, to develop a personalized home health care program for your loved ones, and we coordinate competent and compassionate health care providers to help you carry out that program.
We believe in preserving each person's dignity and sense of well-being, while serving his/her medical needs. Our goal is to help patients gain and maintain as much control and independence in their lives as possible. To that end, we provide appropriate care in order to enable individuals to reach their highest functional level.
Besides our top quality services, we take pride in the ensemble of health care practitioners working with us at Royalcare, Inc. Our staff members are chosen for their deep understanding of the value of sincerity in delivering care services. This value cannot be duplicated nor learned overnight. We make sure that experience and dedication are present in every single employee who become part of the Royalcare, Inc. team. Backed by solid management, we can guarantee the safety and well-being of the clients entrusted into our care.
We want you to be among the many satisfied clients we have serve. Call us today at (248) 626-9229.